I finally got around to making avatars of my remaining two characters, so I'm blogging about that today. I used
this generator
again, but it doesn't work so well for young characters, which is why I hadn't yet finished Chantrell and Grandeau. (She's twelve, he's about fourteen.) I've actually had trouble with most of my characters for this reason since with this generator they usually end up looking a decade older than their actual ages. The downside of constantly writing teenagers and twenty-somethings, I guess.
First up is Grandeau, my young mime with a stupid hat. I'm not sure if it's
exactly
a jester hat that he wears, but this is pretty close to how I imagine him. No wonder Sol starts calling him "Motley".
His magic has him controlling invisible objects (if you ever see him in an invisible box, please get him out because he really is stuck) but this keys into shadow/darkness magic, so he's technically a Shadowwalker like
Etri
, hence the magic-y thing with his hand. Well, he'll become a Shadowwalker once he gets some training; until then he's a mute kid with a penchant for doing cartwheels, contortions, and charades- and confusing the other characters with objects they can't see. He's freaking adorable, so I'm looking forward to using him as a protagonist/main character later.
And this is Chantrell, my musician kid. I haven't decided which instruments she carries around with her, but I figured a recorder would be a good choice. I'm still not happy with this face, but anything I tried to change it to looked even weirder. She's a runaway from a well-to-do-family (long story short: her brother/guardian is one of the antagonists), so I tried to make her clothes look a little fancy.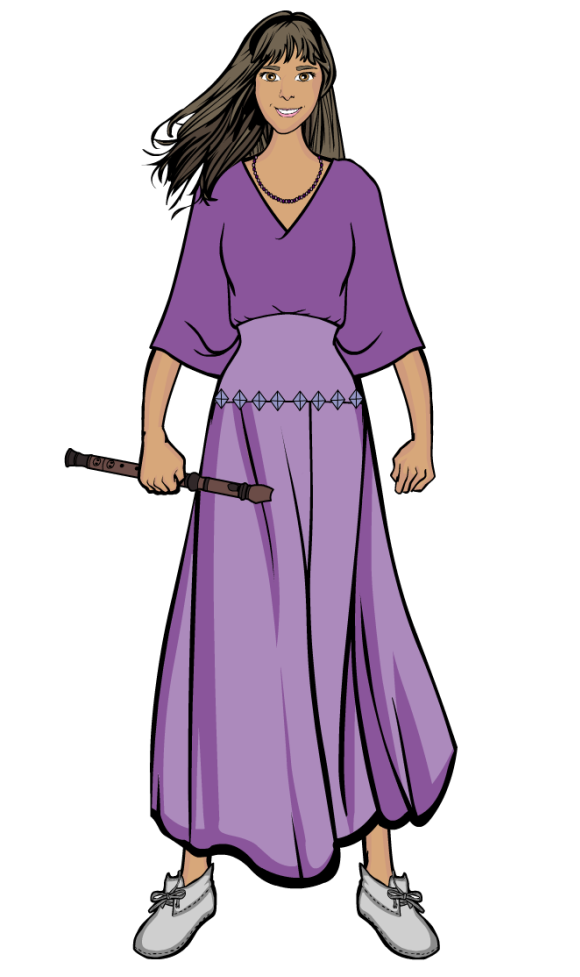 She's a sound-mage, so she can make her voice loud enough to temporarily deafen, she can make voices sound different (she even changes what the cat sounds like), she can change the sound of her instruments... basically if it has to do with noise, she gains some power over it. It's kind of funny that I have her in this post with Grandeau because he's incapable of producing any sound (even the bells on his hat are silent when he wears it) and that's what she does best.
These two aren't main characters, but they become apprentices to a few of the older characters and have plot directly related to them, so I figured it was time to figure out what they look like. At some point I'll make them bio pages, but since they're secondary characters, I don't have a lot of background info for them yet. Considering that I haven't even written up a bio yet for
Drake
who
is
a main character, this is low on my list of writing priorities. ;)
~Meri